Seven Earth-size Planets Discovered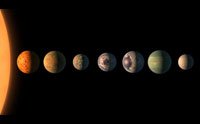 Secular scientists are excited about the recent detection of seven Earth-size planets in the constellation Aquarius, a nearby solar system. According to the report, three of the planets orbit a parent star, called TRAPPIST-1, at a distance that would allow water to exist on their surface. Is their excitement merited?
More...
Recent News
© 1995-2017 Institute for Creation Research. All rights reserved.