Solar Eclipse and the Created Sun [Podcast]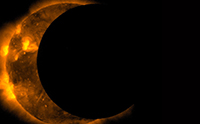 Solar eclipses are astonishing sights. These astronomical events—and even the sun itself—reveal a lot about creation and our Creator. When will the next solar eclipse occur? And how can we view it safely? Tune in to this special episode of Science, Scripture, & Salvation with Dr. Jake Hebert to learn about biblical creation and tips for observing the upcoming solar eclipse.
More...
Recent News
© 1995-2017 Institute for Creation Research. All rights reserved.